New art piece by Musqueam artist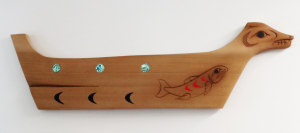 We are honoured to announce the unveiling of a beautiful art piece by Musqueam artist Chrystal Sparrow, now featured at Marpole Neighbourhood House. This piece is full of significance and was made to commemorate the 100 year anniversary of the fire hall building where Marpole Neighbourhood House is proud to call home. Please read on for Chrystal Sparrow's artist statement on this meaningful artwork as well as her artist biography.
The Coast Salish canoe represents the Commemorative celebration of the Marpole Neighbourhood House. 

The Coast Salish canoe symbolizes the Marpole community moving forward and building a new respectful relationship with the Musqueam community. The three abolone shells represent time from the past, present and future. The Salish Salmon symbolizes the Musqueam community. The sea wolf represents the strong and respectful journey that both the Marpole and Musqueam communities are building together. 
— Chrystal Sparrow
    Musqueam
.
.
.
BIOGRAPHY
Chrystal Sparrow was born in 1983 and is a descendant of the Musqueam First Nation's. She lives in Vancouver, BC on the unceded Coast Salish Territory of Musqueam, Squamish and Tseil-Waututh peoples. She works as a Coast Salish artist and female carver in traditional and contemporary art works.
She comes from a long line of traditional Coast Salish weavers, carvers and fishermen. Her late father Irving Sparrow was a master carver who passed down the teachings of designing and carving techniques to Chrystal and her brother Christopher. At a young age, she learned Coast Salish designing and carving skill sets to support her future position in becoming a female Coast Salish artist and carver. Chrystal's art designs represent a unique feminine expression of simplicity, movement and elegance throughout her work. She works in red cedar panels, Houseposts, sculptures and other medias. Currently, she is exploring beading appliqué, abstract painting, and self-portraits that represent her Cree and Shuswap heritage from her mother's heritage.
Her public art is located at BC Children's Hospital, Vancouver School Board, Magee Secondary, Starbucks Canada, and many other locations.
Chrystal believes her art work is a part of a living Coast Salish art language that is significant in its visibility, evolution and preservation of her culture.